Places to visit in Norway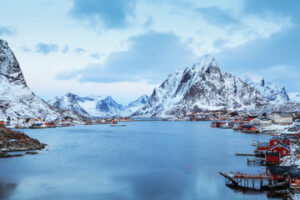 Norway, a Nordic Country in Northern Europe is the territory that comprises the western and northernmost portion of the Scandinavian Peninsula. For all the tourists and visitors, this Nordic country offers a good mix of culture and natural wonders to be explored once in a lifetime. From the country's capital Oslo to beautiful snowcapped mountain peaks, there is no end of places to explore for all travelers. Popularly, this country is said to be the land of the midnight sun and stunning Northern lights. 
Despite multiple mountains and rugged coastlines, roaming and experiencing this beautiful country is very easy. The country's wonderfully maintained public transport system offers multiple opportunities for sightseeing beautiful places. No matter whether you travel across the country by rail or coastal steamers, there is a huge voyage of sightseeing that will attract your eyes and soul at once. This country is rich and full of spectacular scenery which will surely blow the minds of travelers. Several travel agencies offer tourists multiple and customizable packages to explore this fascinating country. The packages might vary from one agency to another and comprise exploring many places such as discovering Oslo, walking around Bergen, exploring via Flam, Northern lights tour, Helinski Panorama Coach tour, and much more.
If you are also planning to visit Norway along with your family or likes to go on Honeymoon, then adding these places to your bucket list is mandatory.
Norway's largest Fjord- Sognefjord
This place is the largest when it comes to fjords in Norway. It reaches 204 kilometers inland right from the coastal village of the Skjolden and branches off to multiple smaller fjords. Many travelers and travel guides prefer to explore the Sognefijord by boat because it is more pleasant and plentiful. It also allows you to cover many other tourists option along the way. But, when you go to explore the fjords, make sure to plan a full day out there. In this place, travelers love to explore narrow branches such as Naeroyfijord which is an admirable 17 kilometers cliff wall that is only 250 meters apart and 1700 meters above the water. Travelers when finalizing the package with travel agencies can also include Fjaerland, Jostedalsbreen, and Norwegian Glacier Museum.
Pulpit Rock (Preikestolen)
If you are an active traveler, then Pulpit Rock is a must place to visit. It is termed the most popular tourist sightseeing place in Norway. Along with that, this place in Norway is also the most photographed. This place is located near Stavanger and you can reach this beautiful place by enjoying ferry and bus rides which will be followed by uphill hiking of about 2 hours. But as soon as you will reach the place 600 meters above the water level. the mesmerizing view will be incredible. Here you can also visit the Norwegian Canning Museum which portrays the country's crucial industries, sardine fishing, and preparation in a cannery dating from WWII.
Tromso- Norway's Arctic city 
It is situated 349 kilometers North of the Arctic circle and is popular for its role as the base of many Arctic expeditions during mid of the 1800s. The city is contributing to promoting and beautifying the country's maritime charm. Also, for travelers who want to experience the beautiful and amazing Northern lights in the world, Tromso should be the priority. Apart from the Northern Lights, tourists may find multiple other major attractions like Polaria, Polar Museum, etc. In a travel package, tourists can combine exploring Tromso with Oslo grand tour and Alesund tour.
Lofoten islands 
When planning to go to the Country of Northern Lights, you cannot miss out on visiting the Lofoten islands. These magnificent islands form an archipelago on the off coast of Northwestern Norway. Apart from being the top-visited destination of Norwegians, it's also famous for worldwide travelers. The weather here is mild, despite being situated close to the Arctic Circle. Many tourists come here for enjoying the beaches, exploring traditional fishing villages, kayak, and hike.
Bygdoy Peninsula 
The Bygdoy Peninsula is located in Norway's capital Oslo and a traveler can easily reach the place through private car or public transportation. Many tourist attractions of Oslo can be found here such as beaches, parks, forests, etc. Apart from this, it is also called to be the home of the Centre for Studies of Holocaust and Religious minorities, Fram Museum, Gjoa, etc. The tourists have to explore this when finalizing the package from the travel agency.