Reasons to Visit Northern Norway and Finnish Lapland During Winter
Norway and Finland are the ultimate travel destination for travelers across the world. One of the world's northernmost countries, Norway, is a beautiful country with a lot to offer. Many people want to travel to these places during summer to enjoy the pleasant climate, hike through the glorious fjords, and stay in a scenic cottage on the coast.
There's no doubt that summer in Norway and Finland is unquestionably wonderful; however, there's no comparison to its beauty when it comes to winter. Also, being recognized as one of the top happiest countries in the world, Norway and Finland always attract travelers with their lovely cities, the dreamlike scenery of majestic cliffs, mountains covered with snow, and most importantly, the fascinating Northern Lights.
Even there's colder weather and long nights, something beautiful is always there to make your winter Norway vacation even more magical. What you can enjoy in Norway during winter can't be experienced on a bright, sunny summer day, such as dog sledding, reindeer farm, and so on. Enjoying a steaming cup of hot cocoa is somehow more fitting as compared to other outing events during summer.
Why Visit Northern Norway and Finnish Lapland During Winter?
Many reasons will justify that visiting Northern Norway and Finnish Lapland during winter is more thrilling than summer. We are going to list some amazing tourism activities in Norway and Finland during winter that will perfectly suit your vacation.
Northern Lights Hunting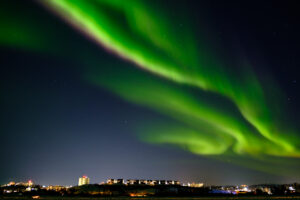 The country is a fascinating place to offer a wide range of outdoor activities throughout the whole year. Even if you are visiting in summer, you will explore attractive hiking trails and enjoy kayaking and fishing. However, if you plan your trip to Norway in winter, you will get some amazing opportunities for taking your vacation to another level. You can practice skiing snowboarding and can enjoy other exotic activities such as husky sledding or crab safaris. However, your trip will be incomplete without sightseeing on the Northern Lights.
This colorful phenomenon is most commonly seen in the northern region of Scandinavia and is also known as the polar lights or Aurora Polaris. Suppose you want to experience the bright, limitless sky and the incredible colors moving across the Arctic sky. In that case, Norway is one of the few places to offer such fairytale phenomena beauty on earth. Norway is a perfect location to witness northern lights, especially during winters. From late September to late March, Northern Norway becomes dark very early, i.e., from afternoon until late morning. The northern lights often soar across the sky during the dark night, giving you a dreamlike experience.
Cross-Country Skiing
Skiing is one of the top tourism activities done during winter. Not only the travelers but locals also set off on a cross-country skiing adventure to explore the endless mountains, highlands, and vast networks of ski trails. All you have to do is to grab some skis and poles and take your skiing adventure to the next level.
Due to its huge networks of ski trails, Norway is said to be an immense cross-country skiing heaven. To make your skiing holiday more special, you can also book a stunning mountain hotel or rent a cabin for a few nights.
Stay In An Ice Hotel
What can be more exciting to stay in a hotel made of ice? Snow Hotel in Kirkenes is a one-of-a-kind hotel accommodation experience that you can't experience anywhere except Norway. The hotel is near the North Norway border to the East, and it consists of a total of 20 snow suits, all made of ice.
For your entertainment, you can also find a bar and restaurant. Snow Hotel is more like a winter wonderland where you can actually live your childhood dreams and fantasies. One must take note that the Kirkenes Snow Hotel is only operational from December to April, so you must plan your trip accordingly.
Enjoy Snowshoeing
Snowshoeing is kind of similar to ice skating, and it is becoming quite popular among travelers in Norway. As the modernized snowshoes are very lightweight and comfortable to use, travelers are opting more to enjoy outdoor snow activities.
These modern snowshoes are easy to control, due to which a hiker gets full control in his direction, whether they are moving uphill or downhill. Thus, snowshoeing is becoming popular as it is ideal for everybody to go for an outdoor snow activity and to enjoy mesmerizing scenery of Norway.
Experience Dogsledding Adventure
One of the biggest highlights in Norway that mostly everyone wants to experience once in a lifetime is dogsledding. It is an Arctic adventure where you can genuinely experience the excitement of running your own dog team on the way to the edge of Tromso. Also, in this way, you can experience the traditional method of exploring untouched Arctic landscape by riding on a husky sled ride.
Especially during evenings, dogsledding in Norway becomes more exciting when you can explore the magical aurora borealis. Dogsledding under the night sky is very surreal, and the experience will be out of the world. To make your trip more exciting, you can also participate in a dog sled race in Finnmarksløpet. The event is the longest dog sled race in Europe and is held every year in Alta in the month of March.
Final Words
Norway offers the coolest winter activities, along with warm and cozy indoor experiences, which will definitely make your trip to the next level. If you want to have fun in the snow in many different ways, then Norway is the place to go. Not only can you explore the northern lights, but also you can relax in the fjords, enjoy its top-notch architecture, museums, and beautiful culture on your winter Norway vacation. Winter nights are very long in Norway, and the season usually starts from mid-November and ends till January. Therefore, if you plan a winter vacation to Norway or Finland, you must make the planning in advance.