Why You Should Visit Norway at Least Once?
Norway is a fascinating Nordic country located in Northern Europe. Its mainland territory includes some portions of the Scandinavian Peninsula, such as the western and northernmost parts. Norway is one of the best travel destinations around the world, popularly known for its fjords, mountains, and northern lights.
There's no doubt that Norway is one of Earth's most beautiful and mesmerising places. It has a lot to offer, from its natural wonders and spectacular cities to its fascinating history and happy population. Many reasons make Norway the best travel destination that you should definitely visit at least once in your lifetime.
Why Should You Visit Norway?
Our expert team at TKWSDMC.com has listed some strong reasons why you should visit Norway at least once. The below-listed reasons will surely make Norway on the top of your travel bucket list.
Happiest Place On Earth
Norway has been repeatedly declared the most beautiful country in Europe and was voted the happiest country in the world in 2017. Every year, Norway is at or near the top of this list due to many factors such as health, income, caring, freedom, kindness, morality, and good governance.
Northern Lights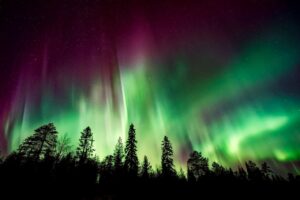 You can't express your emotions in words while witnessing a beautiful display of celestial dance in the sky. Amalgamation of green, purple and pink lights moving in the dark night will make you wonder about the infinite space and its beauty of it. And to explore the Northern Lights, there's no better place than Norway. It is one of the best countries in the world where you can sightsee this fantastic natural phenomenon. However, the end of September to the end of March is the best time to hunt northern lights, and Tromso city is one of the most common destinations for that.
Attractive Cities
The Cities in Norway boast natural beauty. Oslo, which is the capital of Norway, offers varied experiences of culture, such as the Norwegian Maritime Museum and the Viking Ship Museum. Its cities, such as Bergen, Stavanger, and Oslo, are extremely beautiful, where you can get modern facilities along with a traditional Scandinavian feel with the box-shaped, burnt-red buildings as well as hilly backdrops. Other than these cities, Trondheim, Tromsø, and Stavanger is also worth visiting, as they have their own distinct characters. You can find attractive architecture, fascinating museums, cultural venues, and beautiful mountains and fjords as their backdrops.
Low Crime Rates
When it comes to safety, Norway can provide a safe environment whether you are local or a tourist. This is because of the crime rates, which are extremely low in Norway, which makes it a safe place to live and travel in. However, it would be best if you were attentive and watchful as you are travelling to another country, but Norway's low crime rates take away a lot of stress of safety as compared to other parts of the world.
Beautiful Fjords
Their Norwegian fjords are everywhere in Norway, and it is a perfect example of natural beauty. These are the deep-sea waters ​​that have breached up to 200 kilometres in the interior of the mainland. This forms landscapes of vertigo cliffs along with spectacular waterfalls, which will definitely let you explore rural Norway and its beautiful environment. Your trip to Norway is incomplete without visiting and seeing a fjord,
The Midnight Sun
The Midnight Sun is defined as an extended sunset and sunrise at the same time. It is another natural phenomenon where the sun is visible for 24 hours. However, it occurs mainly during the summer in northern Norway as it sits above the Arctic Circle. You can see this wonder in Norway, where you can feel incredible yellow-reddish light touching your face. It is the must-see attraction of the country and the best experience that you must have in your lifetime. The further you'll travel to North, the longer the Midnight Sun will be visible. Also, other than its incredible sight, the Midnight Sun also leaves extra hours in the day where you can enjoy other activities like boating, climbing, fishing, exploring, and more.
Weather 
Even though Norway is a Nordic country, it is affected by the Gulf Stream; therefore, the climate is not as cold, particularly along the west coast. Norway is capable of giving you summer and winter vibes all at once. In some parts of Norway, you will feel extreme cold, but at the same time, some other parts can get hot as the rest as Europe. However, the best part of the different climate in Norway makes it the best place to enjoy different summer and winter activities on your trip.
World's Longest Road Tunnel
The Lærdal Tunnel is the longest road tunnel in the world, which is surprisingly 15 miles (24.5 km) long. This tunnel was built for 1 billion Norwegian kroner i.e., approx. USD 110 million. It connects small communities of Lærdal and Aurland, and you will find a cave every 6 Km to separate road sections. Throughout the tunnel and caves, you'll witness different lighting, providing you with a varied, enjoyable view.
Best Winter Activities
Norway is said to be a true winter wonderland during the winter season. Whether they are locals or travellers, everybody enjoys winter in Norway. Also, Norway claims that they invented skis, so skiing or snowboarding is a must-experience activity in winter. Other than Skiing, Norway also hosts many winter activities such as glacier hiking, dog sledding, and snowshoeing across the landscape.
Outdoor Lifestyle
The fun and joyful lifestyle of Norway is one of the main reasons that the country was voted the world's happiest country. Their lifestyle is more of an outdoor experience than the interior ones. There's a lot to explore in Norway, from the natural beauty, stunning Fjords, and icy glaciers to its modern art and architecture. This country offers every kind of outing experience that you could possibly imagine.
Final Words
Overall, Norway is one of the best places to visit at least once in your lifetime. There are many reasons to travel to Norway, which include factors like safety, the happiest population, stunning fjords, the beautiful Northern Lights, and a wonderland of natural beauty. TKWs DMC Europe Ltd will be delighted to be your travel partner while providing you with the best guidance and services throughout your visit to Norway.