Top 8 cities and towns in Sweden you must visit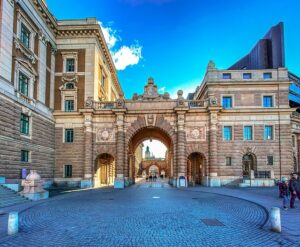 Sweden offers beautiful and captivating places for any traveller or tourist. It is a vibrant and energetic country that has many things to offer everyone per se. Sweden's geography is marked by an abundance of forests, lakes, and thousands of coastal islands. The pristine wilderness of Swedish Lapland in the far north provides opportunities for outdoor enthusiasts to witness the mesmerizing Northern Lights, embark on thrilling Arctic adventures, and experience the magic of the midnight sun during summer. The southern part of the country, on the other hand, boasts charming towns, vibrant cities, and beautiful sandy beaches along its picturesque coastline. Sweden is filled with a rich history and culture which seldom any other city in the world offer. The Swedish culture is deeply rooted in its historical traditions, yet it embraces modernity and progress and the Swedish people are known for their welcoming nature, egalitarian values, and commitment to sustainability. If you are visiting Sweden, you shouldn't miss out on its major towns and cities.
Here are eight must-visit cities and towns in Sweden that offer a diverse range of experiences, that you should visit:
Stockholm: It is the capital of Sweden and is a vibrant metropolis built on 14 islands. Its enchanting blend of historic charm and modern sophistication makes it a top destination. You can explore the cobblestone streets of Gamla Stan, the captivating Old Town, and visit iconic attractions like the Royal Palace and the Vasa Museum, which houses a 17th-century warship. With its unique blend of tradition and modernity, Stockholm seamlessly combines an innovative design, and a thriving cultural scene. This city is also home to the Nobel Museum and all Nobel Prices expect Nobel Peace Prize are awarded here.
Gothenburg: It is located on the west coast and is Sweden's second-largest city and is a hub of cultural and culinary delights. The city is famous for its canals, picturesque parks, and world-class seafood. You should not miss a visit to Liseberg, one of Scandinavia's largest amusement parks, and indulge in the city's thriving food scene. It is also an important seaport and is filled with Duth-style canals. Gothenburg's charm lies in its canals and waterfront areas.
Malmo: Malmo is Situated in southern Sweden, which is a vibrant city known for its architectural wonders and cosmopolitan atmosphere. You can Cross the iconic Oresund Bridge from Denmark to reach Malmo. Then explore the modern and sleek Turning Torso skyscraper, wander through the charming streets of the Old Town (Gamla Väster), and relax at the popular Ribersborg Beach. This coastal city is also known for its stunning modern architecture.


Uppsala: Uppsala is home to one of Europe's oldest universities, It is a city steeped in history and academic charm. You can visit the magnificent Uppsala Cathedral, stroll through the serene botanical gardens, and explore Gustavianum, the university's museum that houses fascinating artifacts. This city is an iconic city that embarks upon Sweden's rich culture and heritage, and because of that it is a must-visit.
Visby: Visby located on the island of Gotland, is a UNESCO World Heritage Site and a medieval gem. It is enclosed by ancient city walls and its cobblestone streets and well-preserved medieval architecture which make it a delight to explore. You can immerse yourself in the history, visit the remarkable ruins, and experience the vibrant atmosphere during the annual Medieval Week. Visby is also a culinary destination, with a range of restaurants, cafés, and bars offering both traditional Swedish cuisine and international flavors. You should try fresh seafood dishes, and local specialties like saffron pancakes, and savor the flavors of Gotlandic produce, such as lamb and mushrooms.
Kiruna: For a unique Arctic experience, head to Kiruna in Swedish Lapland. This remote town offers incredible natural beauty and opportunities to witness the Northern Lights. You can explore the Arctic wilderness, go dog sledding or snowmobiling, and visit the renowned Icehotel, where you can spend the night in a room carved out of ice. Each year, artists from around the globe create unique ice sculptures and architectural designs for this ephemeral masterpiece. You can spend the night in one of the ice rooms, enjoy drinks at the ice bar, or simply explore the enchanting ice art and design.
Lund: Lund is a charming university town, known for its historical landmarks and laid-back atmosphere. You can take a leisurely stroll through the beautiful Lundagard Park, and explore the city's rich cultural heritage in its numerous museums and galleries. The city's most iconic landmark is Lund Cathedral, a magnificent Romanesque-style cathedral dating back to the 12th century. Its towering spires dominate the skyline and the interior boasts stunning medieval artwork and intricate craftsmanship. The cathedral is not only a place of worship but also a cultural and historical treasure that attracts visitors from around the world.
Helsingborg: Helsingborg, a coastal town in southern Sweden, is a picturesque destination known for its rich history, beautiful architecture, and stunning waterfront location. It is situated on the Oresund Strait, Helsingborg offers a delightful blend of cultural attractions, natural beauty, and a vibrant atmosphere. One of the town's highlights is the medieval fortress, Karnan. This ancient tower stands tall in the city center and offers panoramic views of Helsingborg, the surrounding landscape, and the Danish coast across the water. You can explore the tower and learn about the town's history through interactive exhibits.
When you are visiting these 8 beautiful citys & town you may need guidance and assistance, TKWs DMC is the perfect choice for you which will help you make your journey delightful and memorable. Not to mention there are plenty of other great cities in towns that aren't included but you should visit. Sweden is a diverse country that offers great adventure and a memorable journey for everyone.