Places you shouldn't miss while traveling to Uppsala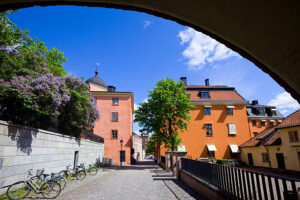 Sweden is a fascinating and spectacular country located in Northern Europe. It is known for its stunning landscapes, rich history, and progressive society and it has captured the attention of people from around the world. There are many places in Sweden to visit and all of them are captivating. However, there is one particular city that you should visit if you are traveling to Sweden and that city is Uppsala. It is a charming city located in the heart of Sweden, a place where history, culture, and academic excellence converge. With a rich past dating back to Viking times and a vibrant present as a hub for learning and innovation, Uppsala has much to offer residents and visitors alike. Historically, Uppsala holds great significance as one of Sweden's oldest cities. It served as the political and religious center of the country for centuries, and remnants of its storied past can be seen throughout the city.
Uppsala is also a city that seamlessly blends history, culture, and academic excellence. Its historical landmarks, prestigious university, and vibrant cultural scene create an enchanting atmosphere that captures the hearts of those who visit. Whether you're strolling through its medieval streets or simply enjoying the serenity of its natural surroundings, the city offers an experience that leaves a lasting impression.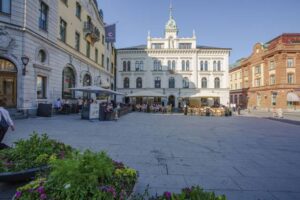 There are many places to visit in Uppsala but there are a few places which you should not miss:
1)Uppsala Cathedral: It is locally known as Uppsala Domkyrka. The trip to Uppsala would not be complete without visiting this cathedral. It is also one of the most magnificent cathedrals in the whole of Europe. As the largest church in Scandinavia, it showcases stunning Gothic architecture and houses historic treasures like the silver shrine of Saint Eric and the Gustavianum Museum. The cathedral was made in the late 13th century and its height is 118.7 meters, making it the tallest church in the Nordic Countries.
2)Gustavianum: It is located on the grounds of Uppsala University, which is a great, well-designed, and reputed university. Gustavianum is an iconic building that once served as the main building of the university and is the oldest standing building of the university  It now houses various museums, including the Gustavianum Museum, which exhibits Uppsala's rich cultural and scientific history. The building is historically marvellous and it is worthwhile to visit the place.
3)Linnaeus Garden and Museum: Any traveler or tourist should pay a visit to the Linnaeus Garden, which was the former botanical garden and residence of the renowned Swedish botanist Carl Linnaeus. The garden is meticulously maintained and showcases a wide variety of plants and flowers. Adjacent to the garden is the Linnaeus Museum, where you can learn more about Linnaeus' life and contributions to science.
4)Gamla Uppsala: It is located just outside of the city center and is a prominent place for tourists and also locals. Gamla Uppsala is an ancient site of historical and archaeological significance. Tourists enjoy this place because it embarks upon the rich history of the city. The ancient burial mounds and the Gamla Uppsala Museum can be explored to learn about the area's Viking past. The Gamla Uppsala Church can also be explored which is adorned by tourists.
5)Uppsala University: Universities are not mostly tourist destinations but due to Uppsala University's historical significance tourists can visit it. It features beautiful architecture and serene surroundings and the ambience is warm. The university's architecture is stunning and scenic.
6)Carolina Rediviva: It is an iconic library and the main university library of Uppsala University and one of Sweden's oldest and largest libraries. Carolina Rediviva is home to numerous rare books and manuscripts, including the famous Silver Bible, and it offers a tranquil environment for book lovers and researchers.
7)Botanical Gardens: It is located near Uppsala Castle and features a huge range of flora and is truly a heavenly place. The gardens offer a peaceful escape and a chance to appreciate the wonders of nature. It is a must-visit for any tourist or traveler in town. Tourists from all countries who have visited this place adore and highly recommend it.
8)Fyris River: The riverside promenade offers a pleasant walk and opportunities for picnics or relaxing by the water. Tourists can stroll along the banks of the Fyris River, which runs through the city center, and enjoy the scenic views. They love taking pictures and videos, to capture the scenic beauty of the place.
There are also more places apart from these eight which will enthral you. TKWs DMC is a perfect choice for anyone who wants to visit Uppsala because we focus on taking tourists to all the great places in the city and we make the journey splendid and memorable. Uppsala will make any tourist feel at home because of the architecture, and its warm and amazing people.