Where to Travel in Finland
Finland, a box of happiness and experiences is one of those hidden gems of the globe which needs to be explored. This place in Northern Europe brings varieties of fun for all age groups. The land's lakes, rivers, falls, wildlife and certainty of snowfall during winter attract tourists to both Summer and Winter activities. No matter what time you are visiting, Finland has plenty of things to offer. Think up a travel plan to these wonderful places in Finland today!
1- Northern lights
Northern lights are most visible during September and March. It is a mindblowing treat to the eye and just an out-of-the-world experience.
2- Santa Claus village
This amusement park displays a Finland version of Disneyland all covered in snow. Its ice-covered restaurants, reindeer sleighs, igloo hotels, safari, excursions and much more captivates the tourist's eyes.
3- Aland
It is one of the known places for nature lover refugees. Aland is an old group of islands and makes the tourists fall into Finnish culture through its maritime museum and an open-air museum.
4- Suomenlinna
This UNESCO world heritage site is a major attraction for both locals and tourists. If you wanted to know about Finnish culture, visiting this place should be on the list.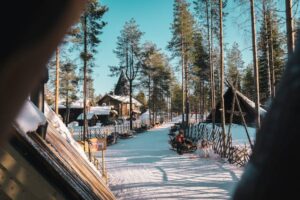 Travelling to Finland from Sweden
Travel between the Nordic nations is unfettered (Finland, Sweden, Norway, Denmark and Iceland).
When relocating inside the Nordic region, citizens are spared from the need for a travel passport. Instead, they must be able to demonstrate their identification and Nordic citizenship if necessary.
Also just to inform your visa is not required if you are travelling from an EU Member State, A Signatory State of the Schengen Convention.
Travel documents accepted by Finnish authorities
Travel Document for refugees (1951 Geneva convention)
Diplomatic passport
Ordinary passport
Travel Documents for a stateless person (1954 New York convention)
Service passport / Official duty passport
Emergency passport/temporary passport
An official identification card issued by Sweden to its own citizens.
Alien's Passport.
Emergency Alien's Passport.
Seaman's book (on duty).
It's fun to travel on a cruise.
How about a starry night on the Baltik sea? Check out the overnight Cruise Ferry from Stockholm – Helsinki. There are many cruise lines to choose from. In general, this is an experience in itself that comes with many entertainment and gaming options. There are several amenities available on the inside promenade deck. Examples include a casino, bars, jazz musicians, a pool and a hot tub in addition to the regular meal served after boarding and breakfast the following morning.
Although small in size just (like most ships), the accommodations are equipped with everything they might need, including mattresses, bathrooms with showers, and free wifi on the upper deck and promenade optionally in cabins. A wide range of spreads at the breakfast and dinner buffets, as well as separate buffet lines for kids old enough to make their own decisions, are provided.